The only official TAM Card® provider in Nevada.
What's the difference between a TAM Card® and an Alcohol Awareness Card?
Great question! A TAM Card is
always
an alcohol awareness card, but an alcohol awareness card is
not
always
a TAM® Card.
While both the TAM Card and alcohol awareness card meet minimum standards required by law, the TAM Card is superior. We don't take shortcuts! We work with state officials to make sure you receive the best education possible. We leverage our relationships with local employers and police agencies to create a better learning experience. With TAM training, you will learn about topics that are important to you and to hiring managers. Our course includes fresh content with industry-specific scenarios for all types of employees. Regular updates are made to the course to keep things fresh and interesting.
Hospitality workers in Nevada are required to take training and get an alcohol awareness card. There are several authorized alcohol awareness card providers in the state of Nevada. These providers are all able to provide students with an official alcohol awareness card. But we are the only official TAM Card provider. And, if your employer asks you to get a TAM Card, there's only one!
My Employer told me to get a TAM Card. Why?
More Nevada employers recommend or require TAM® of Nevada for their employees' alcohol education than any other provider, and for good reason. TAM® of Nevada students handle over 17 million sales transactions each year, and they've been trained to do it safely and effectively.
The best strategy for job seekers and hospitality workers is to do it right the first time. Get your official TAM Card and show employers you're serious about safe beverage service. It might save you time and money. If you train elsewhere, and then an employer requires you to take official TAM training, you'll have to repeat your class with us.
A TAM Card is an official brand name card and has trademarked and proprietary course content. No other alcohol awareness course provider in the state is authorized to issue a TAM Card, or use our course materials, videos, quizzes, help guides, etc.
Another company said they can renew my TAM Card. What's up with that?
Competitors might advertise that they offer TAM Cards, but this is false advertising[1]. To get the best training, and most importantly, official TAM Card, you must take our course. Any other companies advertising that they offer TAM Cards are imposters. If you already have your TAM Card, it is easy to check to make sure you've received the real deal. Check for the purple TAM of Nevada logo.
OK, so one last question. What exactly does TAM stand for?
TAM stands for Techniques of Alcohol Management®. This is an alcohol awareness training program for hospitality workers and others who sell or serve alcohol. Techniques of Alcohol Management is administered by the National Hospitality Institute (NHI), and it offered across the United States[2]. TAM of Nevada has been providing TAM Card training in Las Vegas for over 25 years. In 2010, TAM training also became available online.
[1] United States District Court District of Nevada Case 2:12-CV-00611-PMP-RJJ. 2012.
[2]  TAM – National Hospitality Instiute www.tamusa.org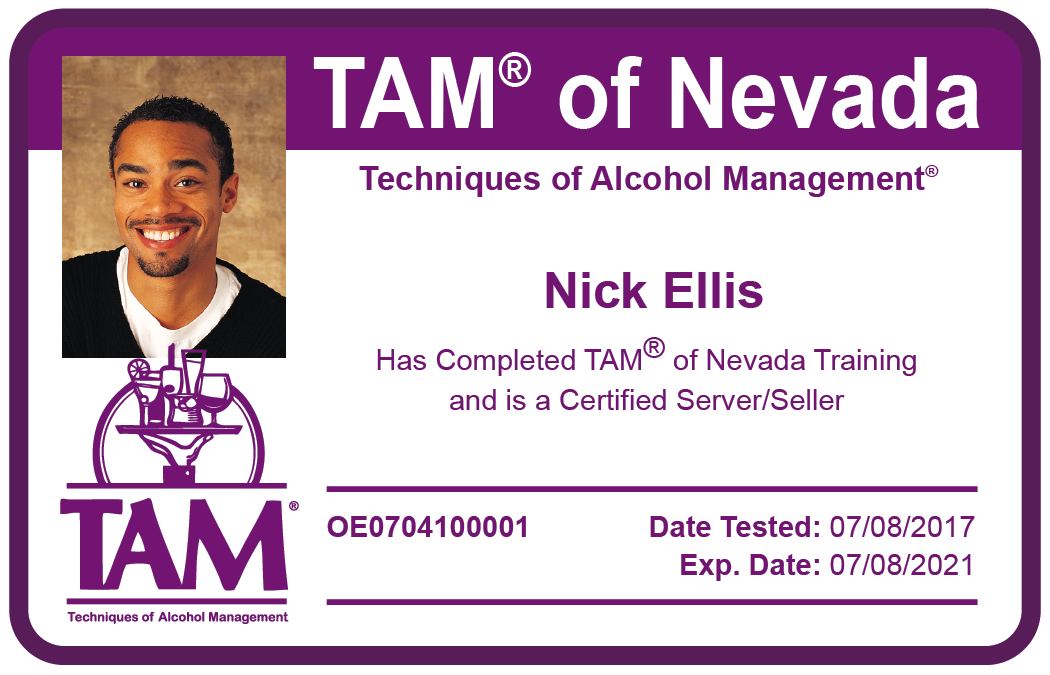 The official online course to get your TAM Card. Complete the course on your computer, tablet, or smart phone.
TAM® Official Training Center
2310 Paseo Del Prado A106
Las Vegas, NV 89102