The only official TAM Card® provider in Nevada.
Where To Get Your Work Cards
Are you prepared to work in Las Vegas? Before you can work in Nevada in the hotel, gaming, food and beverage industry, you must obtain three cards:
TAM® Card (also called Alcohol Beverage Awareness Card) — Required for anyone who works at an establishment where they sell or serve alcoholic beverages, and also for security guards working at those establishments. This includes cashiers who check I.D. and sell beer and wine products. This also includes anyone working or volunteering for any length of time, including one-time events. The process is simple, and TAM® employees are in the office six days a week to help you get your card in the most convenient way possible! Enroll in an online or classroom course now.
Sheriff's Card (Work Card/Work Permit) — required for all positions in a gaming establishment and many other work places. The purpose of the Work Card is to document, investigate and license all employees of the gaming industry. Unlike TAM and Food Handler Cards, you cannot obtain a Work Card before you have landed a job. Work Cards are issued by the Las Vegas Metro Police Department.
Health Card (also called Food Handler Card) — required for anyone who works in a food establishment such as a restaurant or bar. This includes kitchen staff, servers, managers, and anyone who could come into contact with food, ice, beverages, utensils, etc. To get a Food Handler Card, you may review training information on the Nevada Health District website, and then visit their office to take the required test and pick up your card.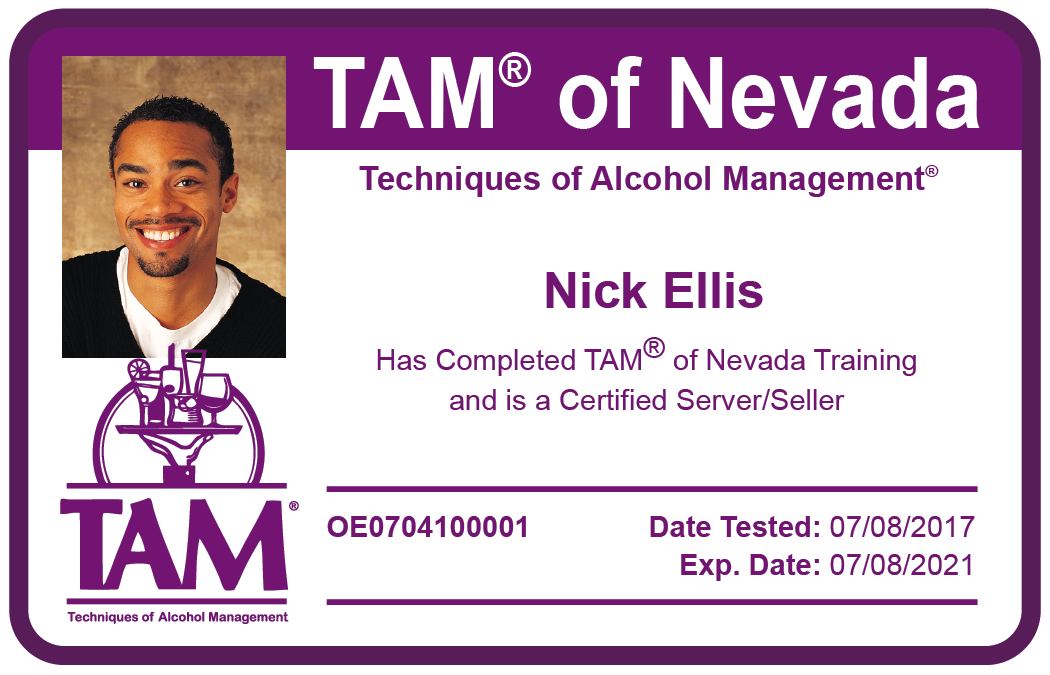 The official online course to get your TAM Card. Complete the course on your computer, tablet, or smart phone.
TAM® Official Training Center
2310 Paseo Del Prado A106
Las Vegas, NV 89102