The only official TAM Card® provider in Nevada.
TAM Card Online Training - Exam Locations and Hours
Most employers agree, TAM of Nevada is the top choice provider of alcohol awareness education in Nevada. Register today for the most well recognized online alcohol awareness course for only $26.95.
You can get your TAM Card in just a few easy steps – complete the online course, visit our office to take a short multiple-choice final exam, and get your card immediately. This online course is approved by the Nevada Commission on Postsecondary Education and meets requirements for alcohol awareness training.
Visit our Alcohol Management Resources page for more information.
The convenience to learn when you have time in your schedule is the biggest benefit to the online version of the training. Learn with animations, audio, video, and fun learning games. Complete the course anywhere, anytime.
The course takes about 2 hours to complete.
Learn on your own, and at your own pace, any time day or night.
Training access for a full 90 days!
Course is compatible with computers, tablets and smart phones.
Suitable for first time alcohol awareness training and for renewing your TAM Card.
For students without computer access, on Tuesdays of each week, you can use one of the computers in our computer lab to take the online course.
Print a Student Manual for future reference.
You must complete the course prior to taking the required exam in our office. Once you complete your exam, you'll receive your card immediately. To issue a TAM Card, we'll need to see valid picture ID. U.S. driver license, DMV-issued ID card, passport, or two forms of identification from the Valid Identification list, one of which must contain a photo. How easy is that? Our office in Las Vegas office offers final exams six days a week. There is no need to make an appointment!
How long is the exam?
The exam is 25 questions. It takes approximately 15 minutes for you to take your exam and have your picture taken for your TAM Card.
Do I need to print the certificate?
No, the certificate is for your own records. Our system tracks your completion status.
Is there a way for me to take the final exam online?
The Nevada Commission on Postsecondary Education requires an in-person proctored exam. Therefore, we cannot offer the exam online at this time. We'll issue your card after a quick exam in our office!
Who needs a TAM Card?
Alcohol Awareness Beverage Awareness Training is required in Nevada Counties (Clark and Washoe County) with a population of 400,000 or more. An alcohol education card is required for owners, operators, managers, bartenders, wait staff, servers, security guards, cashiers, stock handlers, and clerks at casinos, bars, restaurants, night clubs, and grocery/convenience stores. You must be 16 years of age or older to obtain a TAM Card.
In Nevada, alcohol education cards are valid for four years after which time card holders must renew by taking the course again to refresh their knowledge with the latest legislation and become skilled in the new techniques and methods for keeping themselves, their establishment, the community, and their patrons safe.
Have another question? Check out our Frequently Asked Questions.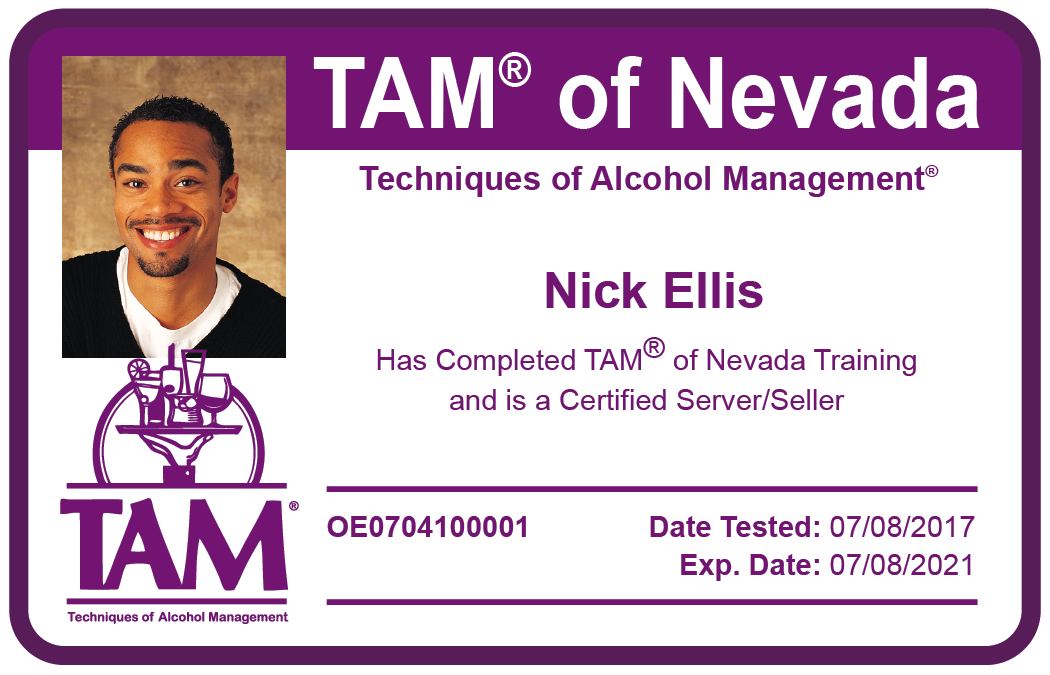 As always, there is
no
additional fee when you visit our office for your exam.
Las Vegas, TAM® Official Training Center
Exam Hours
| | |
| --- | --- |
| Mon-Fri |  8:30 AM – 5 PM |
| Sat | 9 AM – 12:30 PM |
Las Vegas, TAM® Official Training Center
2310 Paseo Del Prado A106
Las Vegas, NV 89102
Laughlin – TAM®, Exam Proctoring By Appointment
By appointment only
Contact Manpower in Laughlin
Tel: 928-753-1113
Please bring proof of completion and government issued ID
Mesquite – Virgin River Hotel and Casino
Class Schedule
11/16/2022

12/21/2022

1/18/2023
2/15/2023
3/15/2023
4/19/2023
5/17/2023
6/21/2023
7/19/2023
8/16/2023
9/20/2023
10/18/2023
11/15/2023
12/20/2023

Onsite Every 3rd Wednesday of the Month
8:30 AM
Exam for Online Students
11:00 AM
Mesquite, Virgin River Hotel and Casino
Virgin River Hotel and Casino River Room 100 E Pioneer Blvd, Mesquite, NV 89027
Mesquite Gaming, Exam Proctoring By Appointment
Exam Hours
Exams can be scheduled by calling to make an appointment.
Check in at the Human Resource office
Please bring proof of completion and government issued ID
Mesquite Gaming Human Resource Department
Tel: 702-346-4041
Overton, Exam Proctoring By Appointment
Dates / Exam Hours
By Appointment only.
Jesse
Tel: 702-397-2312
Please bring proof of completion and government issued ID
Check in at Courtesy desk
Reno / Sparks, Exam Proctoring By Appointment
TAM® Official Training Center
2310 Paseo Del Prado A106
Las Vegas, NV 89102